Regular price
Sale price
$55.00 USD
Unit price
per
Sale
Sold out
The Perfect Gift

Free Shipping (Save $8)

30-Day Return/Exchange
15 in stock
This minimalist wallet is designed to hold up to 8 cards and 5 bills, allowing users to minimize and organize their cards and cash with ease.
Feature

All our wallets feature cardholders that can store 5-6 cards. They are made from aviation-grade aluminum, making them super lightweight and durable.

The miniwallet can store an additional 2 cards inside the wallet and 5 bills.

Each wallet is also RFID-protected, so you don't have to worry about digital theft. We use the best materials to craft our wallets, ensuring you won't encounter cheap leather or other materials!
Specs

Dimensions:

Mini: 3.9 x 2.5 x 0.75 inches

Materials:

6061 aviation-grade aluminum
Made from top grain leather
High-quality magnets
Hand stitching
Shipping

*Free Shipping

Standard USPS shipping takes 2-5 days after I drop off the packages at USPS. Typically, I take 1-2 days to print and package the orders before dropping them off at the mail.

You can expect to receive your package in as quickly as 3 days, or it could take up to a week if you live far from Minnesota.

Additionally, you have the option to pay extra for faster delivery.
FAQs

Q: Will my cards fall out if I drop the wallet?
A: No, the cardholder keeps your cards safe, even if you drop the wallet.

Q: How many cards can the wallets hold?
A: It can normally hold 8 cards for the Mini and 10 cards for the Hybrid.

Q: Is this real leather?
A: Yes, our wallets are made of top-quality leather which lasts a long time.

Q: Can the wallet handle being sat on in a back pocket?
A: No worries! The cardholder is made of strong aluminum, so it protects the wallet and cards even if you sit on it.
Share
View full details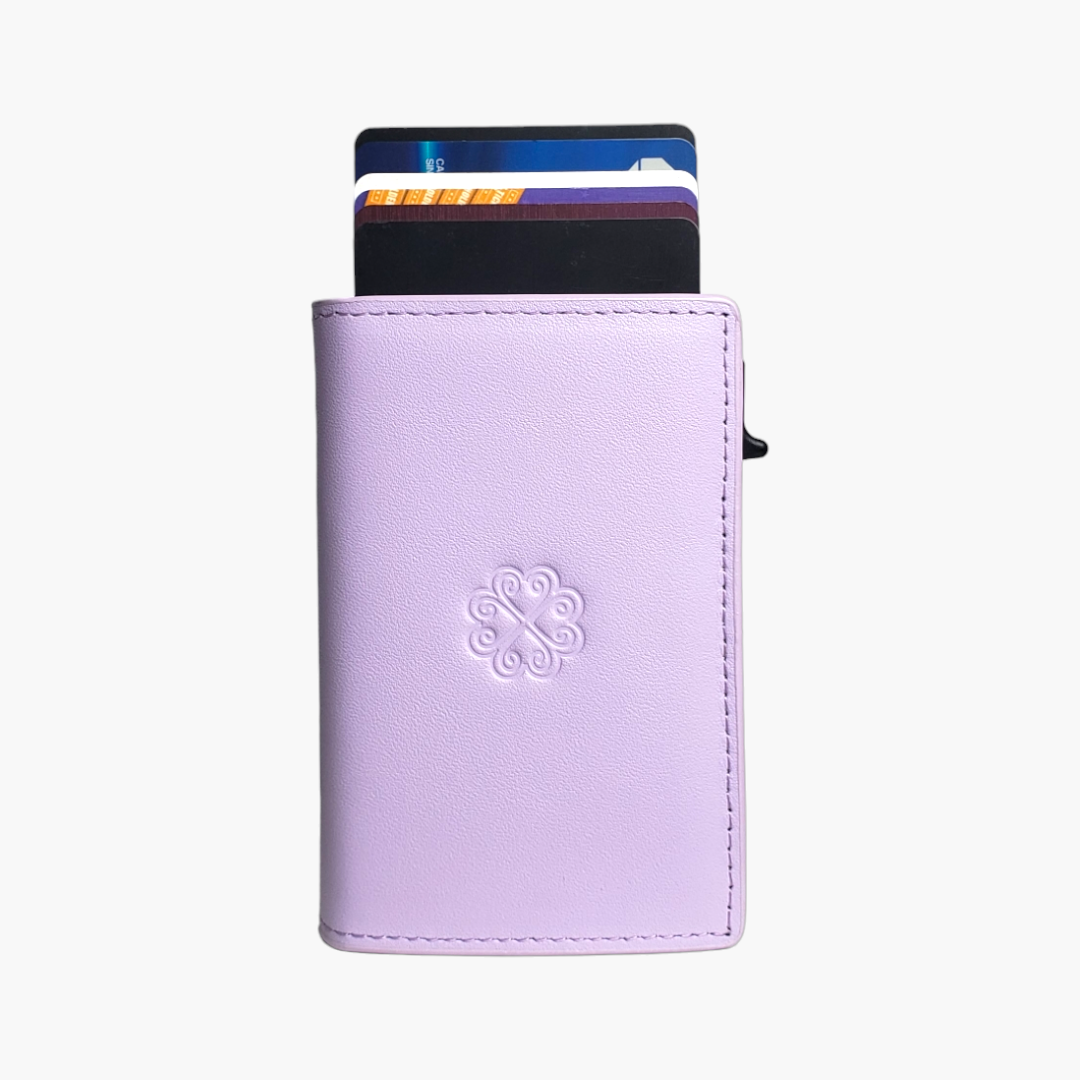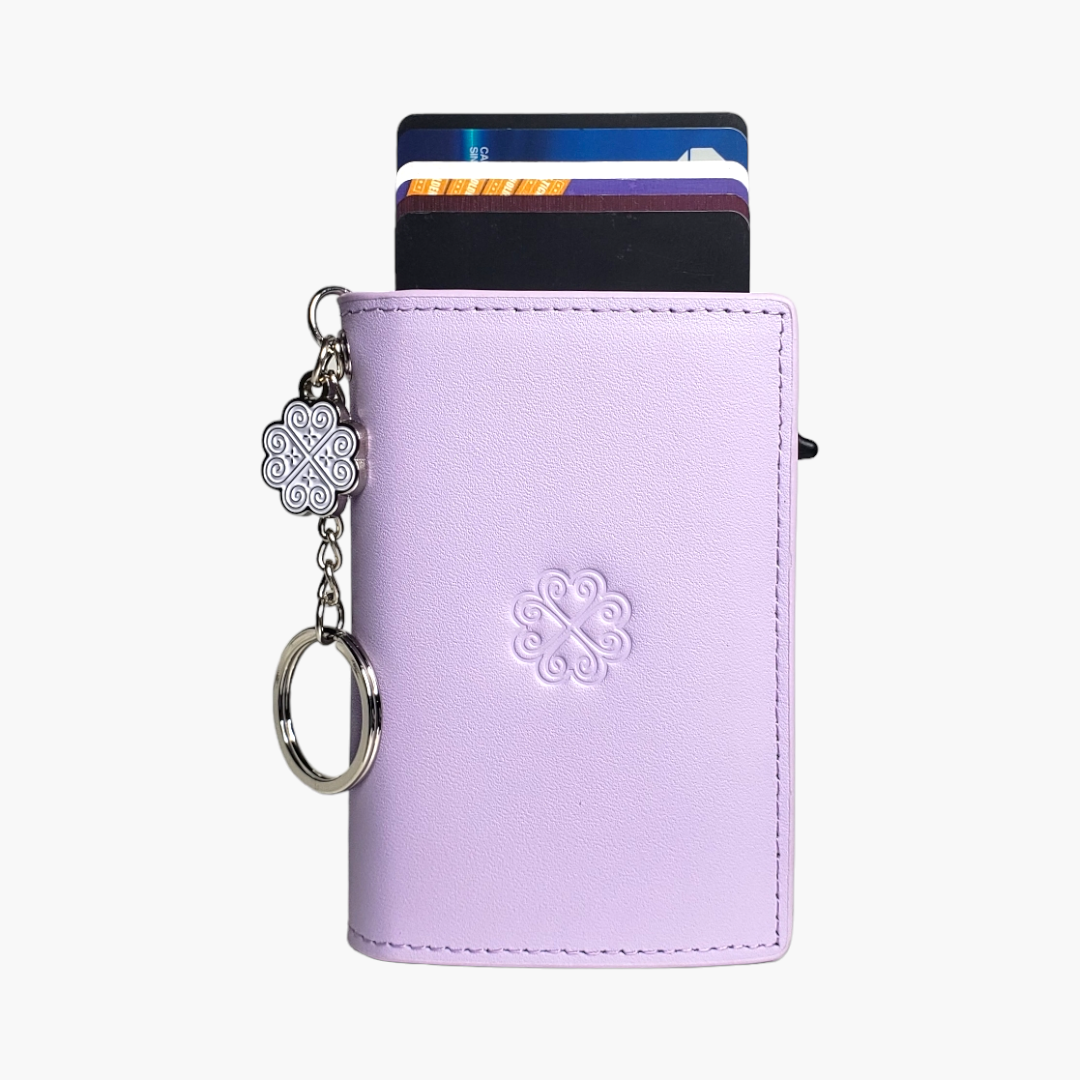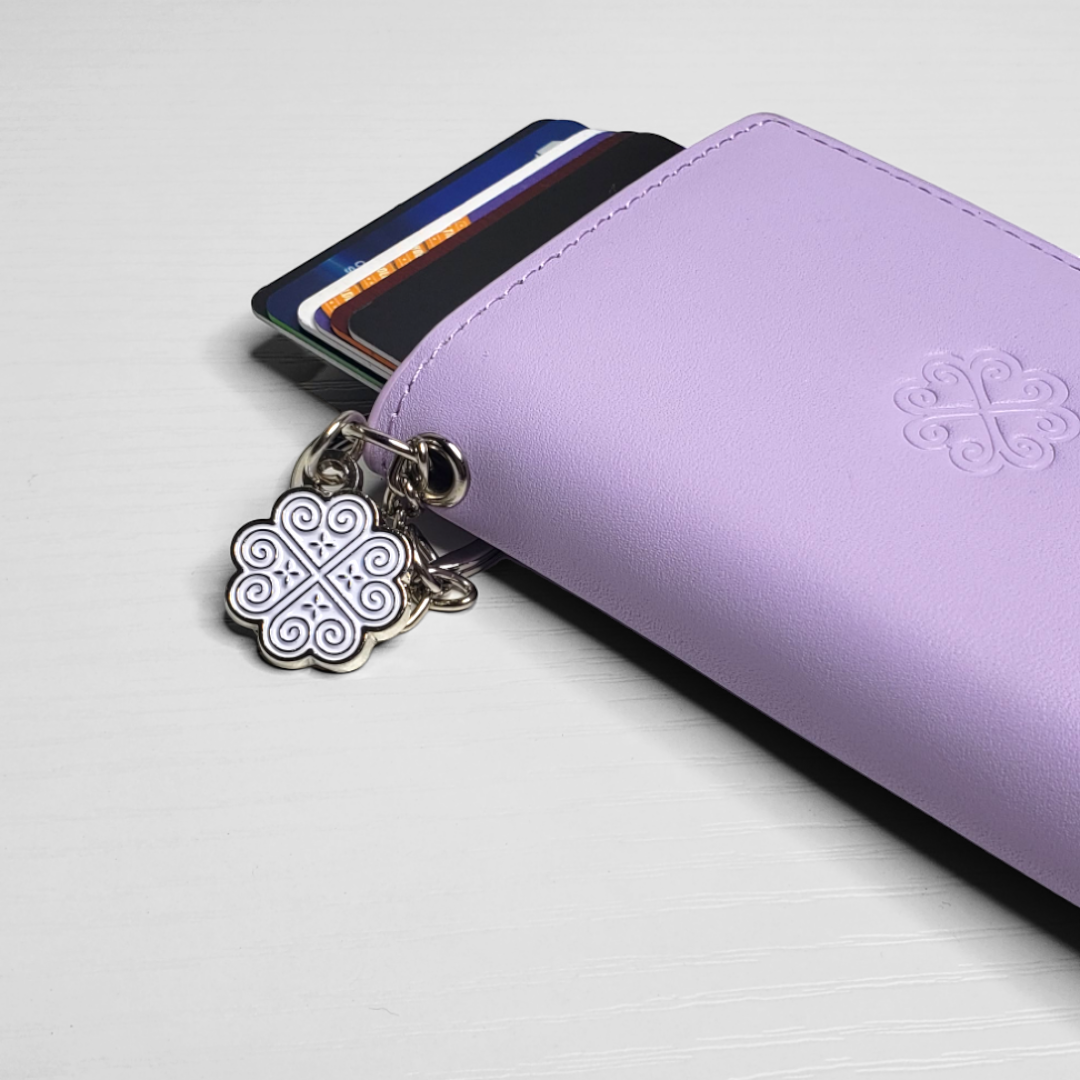 Easy Card Access

No more fumbling for cards! With a single push, the cardholder presents all your cards in a neat ladder format, making it super easy to pick the one you need.

Pocket-Friendly

Our compact design slips easily into pockets or hands, making it convenient for on-the-go moments. It's the ideal size without any unnecessary bulk.

Hmong Inspired

Our Hmong 'Paj Ntaub' symbol represents your identity, culture, and pride. Our goal is for our Hmong people to carry a wallet they're proud of that shows their heritage.

10 Different Colors

With our palette of vibrant colors, there's a wallet for every outfit and occasion. Whether it's sleek black for evenings or playful pink for casual outings, we've got you covered.
My to go wallet!
Most of the time I just grab my phone and this mini wallet to go. It's small enough to fit into my side pockets. I love mini wallets and this one is my favorite!
My easy wallet
I was gifted one of the new wallets as a gift. I must say, I'm in LOVE with everything about it.
The wallet's leather quality is exceptional. The genuine leather not only looks and feels premium, but also promises durability and longevity.
Furthermore, one aspect that truly impressed me was the wide range of colors available. The diverse color palette allows you to express your personality while maintaining a timeless elegance. This makes a huge difference because I can essentially match my wallet with my outfits. It becomes an accessory-wallet :)
I highly recommend this wallet from Comree for anyone seeking a combination of quality, style, and functionality. Its excellent leather quality, and wide selection of colors make it truly a top contender compare with others.
Great little wallet!
I have the lavender without keychain and the nude with keychain and I love them both! I don't carry a lot of cards or cash on me so this wallet was the perfect wallet to carry my essentials and throw in my bag. I love the feel of them and the colors are beautiful. I gifted a few of them to my sisters and they all love them too. And how can you not love the adorable Hmong logo on the front. <3